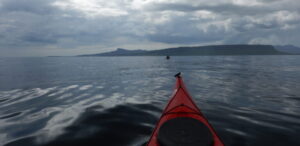 October 19, 2023
6:30-8:00 pm
Henry Dorfman
"Captain"
Explosive eruptions and pyroclastic flows shaped the dramatic landscape of the Small Isles of Scotland. Perhaps that inspired humans to later keep up the tradition with extensive and savage clan warfare. The rugged terrain in its matching unforgiving North Atlantic location supports little in the way of population, except for extensive wildlife.
It isn't easy to get there and harder to subsist, but those who do are treated to sights and experiences found few other places on earth. Henry Dorfman, our presenter, will take you there visually on a kayak voyage through the rugged islands. And while we're over there, we'll take a few side trips through mainland Scotland, including the highlands and, of course, Loch Ness.
Henry Dorfman is the founder and leader of Cincypaddlers, a group of about 2,000 kayakers and canoeists. He has organized and let them on adventures around a good portion of the globe, from the glaciers of Alaska to the Hebrides Archipelago of Scotland, and from the fjords of northern Canada to the mountains of Costa Rica. Most of these have been on water, but a number were on solid ground. He has previously addressed our group about viewing the Northern Lights from the Arctic Circle and a variety of kayak expeditions.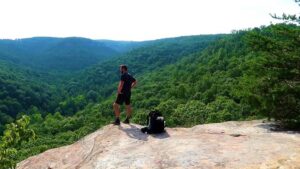 November 2, 2023
6:30-8:00 pm
Jason wish
OUTDOOR ADVENTURING IN OHIO
AND BEYOND
Jason Wish, a lifelong Ohio farmer and outdoor adventurist, will be sharing some of his backpacking experiences from his home state and throughout the Midwest, and how this led to ultralight backpacking, fastpacking, Fastest Known Times, ultra running, and kayak camping. Over the past seven years, he has built a following of over 43,000 subscribers on his YouTube channel through documenting and showcasing his many adventures. Jason will be presenting an overview of some of his favorite backpacking trips and gear, and how and why he decided to take his passion for outdoors to the next level, and handling failures that inevitably come.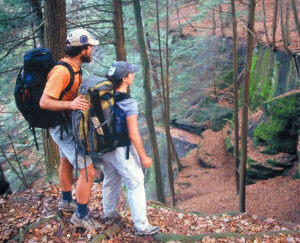 December 7, 2023
6:30-8:00 pm
Amy and brent anslinger
Discovering Ohio on the Buckeye Trail:
Memories from a Bicentennial
Thru-Hike
Brent and Amy Anslinger set out in 2003 during Ohio's Bicentennial to discover their home state from a new perspective. The Buckeye Trail wraps around Ohio for 1444 miles giving the hiker a variety of settings that showcase the diversity of Ohio. From the rolling hills of southern Ohio to the urban landscape of larger cities and the quaint small towns in between, the Buckeye Trail connects Ohio in a way that few other experiences can. The Buckeye Trail in its current form is 1444 miles (1300 miles when Brent and Amy hiked) and traverses through 47 of Ohio's 88 counties. Take a journey around Ohio with Brent and Amy as they take you on a photographic journey. They hiked from Cincinnati, overlooking the Ohio River at Eden Park, and up the western side of Ohio through small towns and canal history before skirting Toledo and heading towards Cleveland. After touching Lake Erie at Headlands Dunes State Park they headed towards southeast Ohio in classic fall foliage before winding back to Cincinnati to complete one of the first thru-hikes of Ohio's state trail. Brent and Amy will weave in Buckeye Trail history and the connection to Ohio's most famous hiker, Emma "Grandma" Gatewood.
Prior to thru-hiking the Buckeye Trail, Brent and Amy completed the 2600-mile Pacific Crest Trail for their honeymoon in 2001. Brent had also hiked the Appalachian Trail in 1997 and Amy had completed a 3-month National Outdoor Leadership School (NOLS) experience in Alaska. Following their Buckeye Trail, they were Backpacker Magazine's Get Out More! Road Team for two years. Brent is the Outdoor Recreation Program Manager at Five Rivers MetroParks and Amy ran the Wright State Outdoor Resource Center for eleven years and is currently a guide for Explorer Chick Adventure Company and Wellness Coordinator for Creative World of Montessori.
January 4, 2024
6:30-8:00 pm
February 1, 2024
6:30-8:00 pm
March 7, 2024
6:30-8:00 pm