Our 2022 Schedule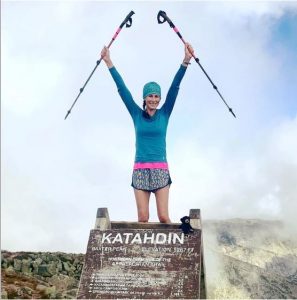 JANUARY 6, 2022 – 6:30pm
Program: An Appalachian Trail Immersion

Presenter: Cheryl Fleetwood

Description: The rain fell steadily and temperatures dropped. Soaked to the core with increasing symptoms of hypothermia, she knew she had to act quickly or be caught up in her number one fear. Never considering herself an athlete or even a real hiker, Cheryl was compelled yet determined as she stepped foot onto the world's most iconic path. Loving (almost) every moment, she was surprised daily by amazements of wonder and awe.
Visualize how the 2,192 mile Appalachian Trail made an everlasting impression through a photo journey with Tigerlily, a 2019 solo thru hiker, a Centerville resident, and mother of four, and imagine the challenges, trepidations, and beauty of the landscape from Georgia to Maine. Come and dream your own dreams of living outside the normal sphere of society and let yourself become immersed into the world of the Appalachian Trail.
NOTE: Many of you know that a hiker was stabbed to death on the Appalachian Trail in May by a mentally unsound man. The presenter encountered the murderer on the day of this tragic event. Tigerlilly will recount her experience meeting this deranged man, the fear she felt, and how she became involved in the dreadful event that unfolded later that night a few miles from her campsite. https://www.boston.com/news/crime/2019/05/13/james-jordan-deadly-appalachian-trail-stabbing
Presenter Biography: Cheryl is the youngest of 5 children and mother of 4 children. She studied art, worked as a designer & photographer but mostly she's spent the last 24 years raising wonderful children. She has a passion for art, design, photography, vintage finds, & nature. Her longest hike was backpacking the 210-mile John Muir Trail in the summer of 2016. This experience was hard on her but it made her want to backpack more. Hiking the Appalachian Trail was not a lifelong dream for Tigerlilly, but a new one. She believes we should not give up on those old dreams we had as kids, or give up on creating new ones later in life.
February 3, 2022 – 6:30pm
CANCELLED due to inclement weather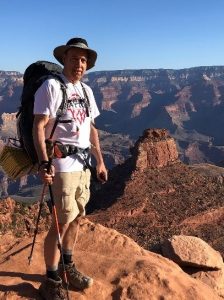 March 3, 2022 – 6:30pm
Program: Grand Canyon: Learn! Plan! Go!

Presenter: Charley Schuehrolz
Description: Have you thought about what it would be like to hike one of the World's Seven Natural Wonders? Do you crave a challenging hike in an extreme environment? Have you thought about planning a trip, but find the year in advance reservation logistics confusing?
Hiking the Grand Canyon is much more than strapping on a pair of boots and hitting the trail. With knowledge, desire, and proper planning, the Grand Canyon will be one of your most memorable adventures.
Come see: Photos of hikes below-the-rim and hear stories of our Grand Canyon hiking adventures.
Come learn: Traveling to the Grand Canyon, finding the lodging you need, the logistics of coordinating hiking permits with housing (above and below-the-rim), hiking gear, hiker nutrition, physical training, North rim vs South rim, shuttle/duffel services, personal safety and more.
Take away: Informative website links, contact information to make your reservations, lodging insights, and the knowledge you need to successfully plan your trip.
Not ready to commit to a hike? Live vicariously during this seminar with many below-the-rim photos of the Grand Canyon and stories of adventure. Learn about activities for non-hikers in your group. Open forum – come discuss and share. Everyone is welcome.
Presenter Biography: Charley Schuerholz has been a lifelong hiker/walker. He craves the physical challenge of a strenuous hike and enjoys fun social backpacking trips. Charley has logged 192 miles hiking below the Grand Canyon rim, including five Rim-to-Rim hikes. Although the dry desert heat is Charley's favorite hiking environment, he is open to an adventure anywhere. He strives to continually gain insights for successful hiking from his fellow hikers and The Dayton Hiker's Club. Charley is excited for the opportunity to give back by sharing his experiences in hopes that you will find the confidence to hike the trails you dream about.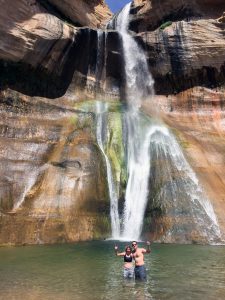 April 7, 2022 – 6:30pm
Program: Less crowded Parks and Destinations in the Desert Southwest

Presenter: Don and Sue Klosterman
Description: This presentation will highlight outstanding day hike opportunities in several "lower traffic" parks and scenic destinations in the Nevada, Utah, and Arizona region. All photos were taken during a 7-day, 6-night car camping trip in August 2019, spending two days in Great Basin National Park, two days along Utah Highway 12, and two days in Grand Canyon North Rim. Hiking terrain varied from awe inspiring canyon rims, to slot canyons and spectacular waterfalls, to alpine scenery including a thrilling 13 thousand-foot-high mountain summit, and even a cave tour. A key goal of the trip was to explore highly scenic locations out West that are not overly crowded.

MAY 5, 2022 – 6:30pm
Program: Not What I Had Planned

Presenter: Don smith
Description: Ever have something slowly slip away only to realize what's happening too late to stop it? Hello, my name is Don Smith, and this is my slip-away. In 2006 I turned fifty. My wife had your typical Big 50 family and friend's birthday barbeque in mind. I had something else. I wanted to do something different. Something memorable. Something exceptional. What I really wanted to do was thumb my nose at getting old(er). While watching a Sunday afternoon travel show, the topic shown was climbing the Grand Teton. At the end of the episode, the host said something that set the hook. "Anyone in reasonable condition can summit "the Grand". I ride bikes. I've done 5 and 10K's. I backpack. That should qualify me as in 'reasonable condition', shouldn't it? So, I signed up and booked a summit for June 27th, 2006; my fiftieth birthday. Join me in reliving my party.