Our 2022-2023 Schedule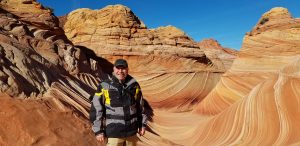 October 6, 2022 – 6:30 pm
Program:   The Wave and other wondrous trails around Kanab

Presenter:  Henry Dorfman

Description:  His upcoming visit with us focuses on The Wave, a location high on the must-do list of many hikers because of its dramatic scenery and limited number of permits issued via lottery by the BLM. It is in the Paria Canyon-Vermillion Cliffs Wildness, sitting on the south side of the Arizona/Utah border. He'll reveal the best way to win the lottery for permits, how to plan the route and discuss and show (photos) of some other great hikes in the area.
Henry Dorfman is the founder and leader of Cincypaddlers, a group of about 2,000 kayakers and canoeists. He has organized and let them on adventures around a good portion of the globe, from the glaciers of Alaska to the Hebrides Archipelago of Scotland, and from the fjords of northern Canada to the mountains of Costa Rica. Most of these have been on water, but a number were on solid ground. He has previously addressed our group about viewing the Northern Lights from the Arctic Circle and a variety of kayak expeditions.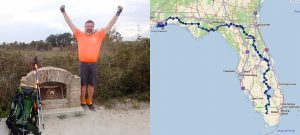 November 3, 2022 – 6:30 pm
Program:  Walking on Sunshine. A Thru Hike of the 1,100 Mile Florida Trail

Presenter:  Andy Niekamp

Description: The southernmost of the National Scenic Trails in America, the Florida Trail is unlike any other. Where else can you see an alligator, bear, and panther all in one day? Take an 1,100 mile journey from the Everglades to Pensacola through the interior of Florida. The Florida Trail ranges from remote and wild knee-deep swamps to bike paths through busy suburban Orlando to the white, sandy beaches of the Panhandle. See parts of Florida that most people never get to see. Learn how Andy endured sun, heat, rain, wind, cold, floods, hurricane damage, alligators and venomous snakes to complete this 2.5-month hike.
Bio: Andy "Captain Blue" Niekamp has been a wilderness adventurer for more than 30 years. This IT professional, turned long-distance hiker has logged over 30,000 miles in more than 30 different states coast-to-coast including 11,000 miles on the Appalachian Trail. Hiking is Andy's passion. He has hiked the entire Appalachian Trail end-to-end five times. His other long-distance trails the Buckeye Trail, Kentucky's Sheltowee Trace, John Muir Trail, Colorado Trail, Vermont's Long Trail, Minnesota's Superior Hiking Trail, Arkansas' Ozark Highlands Trail, the Ohio To Erie Trail, and Bartram Trail. He is the author of "Captain Blue on the Blue Blazes" a popular book about his fascinating journey around Ohio on the Buckeye Trail. Andy is the founder and Chief Adventure Officer of Outdoor Adventure Connection, a backcountry guide service based in Dayton, Ohio. Andy has guided hundreds of people on backpacking trips that focus on backcountry skills, education, confidence, and Leave No Trace techniques. Andy is the founder and organizer of Dayton Hikers, a hiking Meetup group. Under Andy's direction, the Dayton Hikers group has grown to be the largest and most active outdoor recreation club in Dayton, Ohio. He, with the help of forty event planners, leads hikes, organizes events, and plans gatherings and presentations for its 8,500+ members. His goal is to inspire others to get exercise, make friends, explore nature, live a healthier lifestyle and make their community a better place to live!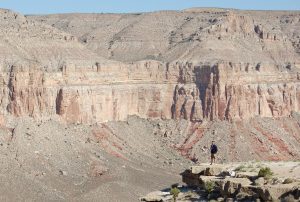 December 1, 2023 – 6:30 pm
Program: Mother Nature's a B…

Presenter:  Don Smith

Description: Whenever we experience the horrific damage Mother Nature is capable of, it's always reported as a catastrophe on the evening news. Tornados, hurricanes, floods, wild fires, and earthquakes are always evaluated in lives lost and dollars of destruction. My presentation recounts August 18, 2008. The date a 'once-in-a-century' flash flood redefined one of America's most scenic canyon and waterfall system. This trip into Havasu Canyon took place on June 6th – 9th, 2009: the first weekend the Havasupai Nation re-opened the trail to the public. Navajo Falls, Havasu Falls, and Mooney Falls lie downstream from Supai, AZ., the village headquarters for trekkers entering the canyon. Mother Nature can devastate herself. Two of these three falls remain. One was reduced to a long series of rapids and lesser falls. Its been almost 15 years since and I'm eager to return.

Bio: 67 years old – lives in Xenia – thoroughly enjoys travel with a wilder touch – family traveled a lot when younger.
---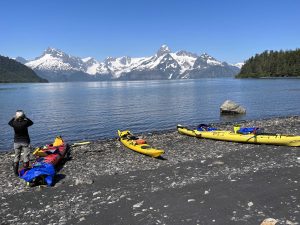 January 5, 2023 – 6:30 pm
Program: Sea Kayaking in Kenai Fjords National Park, Alaska: Glaciers, Whales, and Other Marine Life

Presenter:  Don and sue Klosterman
Description:
The presentation focuses on a 5-day chartered sea adventure aboard The Dora, a converted fishing boat leaving out of Seward Alaska in June 2022.  The boat carried six of us (Sue and Don, one other couple, a kayak guide, and the ship's captain) along the coast of the Kenai Peninsula, home of Kenai Fjords National Park.  We launched kayaks directly from the boat twice per day to explore the rugged coastline, quiet coves, and tidal pools on the shore.  During the trip we saw bubble net feeding of a Humpback Whale pod, harbor seals surfacing and then disappearing, an orca pod, puffins and countless other birds including bald eagles, and a bear taking a swim along the coast line.  Along the way we passed countless rugged peaks and numerous glaciers (in the distance), paddled through glacial frack, saw stunning waterfalls, and took several good hikes along the shore line.  In a separate adventure, we took an alpine day hike to an overview of the Harding IceField located in the interior of the Kenai Peninsula.   Extending over 700 square miles, this enormous ice field feeds over 30 glaciers and is the largest ice field contained entirely in the USA.  The scenery was stunning!
Bio: Don and Sue Klosterman are alumni and long-time employees of the University of Dayton.  Don's home there is in the School of Engineering, while Sue spent many years teaching geology and managing the lab.  They have taken many hiking and backpacking trips over their 32 years of marriage, many of them in the western U.S.  This was their first trip to the 49th state.  Don was the coordinator of the Dayton Backpacker Campfire from 2003-2016., and they both were active leaders in BSA for many years.  They currently reside in Centerville and continue to plan new adventures each year.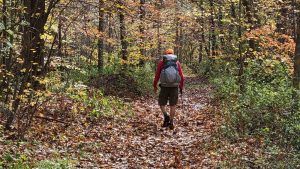 FEBRUARY 2, 2023 – 6:30 pm
Program: Backpacking Loops of Ohio

Presenter:  Jim Rahtz

Description: Many backpackers dream of epic, once in a lifetime thru-hikes that take months to walk and cover thousands of miles. Rather than just dream, how about getting out on one of many great backpacking trails right here in Ohio? Options range from easy strolls to challenging 50+ mile hikes that travel through surprisingly impressive scenery. In addition, most of these 2-3 day hikes are loops, greatly simplifying logistics. Join us as we tour over a dozen backpack trails where you can immerse yourself in nature without ever leaving the Buckeye State.

Bio: Jim Rahtz spent a career in park and recreation management in Ohio. Once retired, he followed the advice to "go take a hike" and rediscovered backpacking. In addition to backpacking every trail he could find in Ohio, he's also thru-hiked several longer trails such as the Colorado Trail, Long Trail and Sheltowee Trace. As a freelance writer and photographer, his work has won multiple awards; appearing in national publications and websites such as TheTrek.co, TrailGroove.com, The Boundary Waters Journal and Camping Life. He is President of the Outdoor Writers of Ohio and has written five books on backpacking.

March 2, 2023 – 6:30 pm
Program:
Horse Pack Trips in Wyoming and Montana
Presenter:  Darlene Schenck, Cate Lensch, Shelly Moody
Description:  Darlene, Cate, and Shelly will be talking about their experiences during horse pack trips in Wyoming and Montana.  All 3 pack trips were nomadic, progressive trips that traversed a beautiful country that is only accessible by foot or hoof.  One trip was in the Bob Marshall Wilderness in Montana and the other two were from Cody to Jackson, Wyoming, where we were on the south end of Yellowstone NP.  They experienced places like the Chinese Wall, Paring of the Waters, the most remote spot in the lower 48 and many others.  They will share pictures and stories as well as information if anyone would be interested in going on a pack trip.
Bio:  Cate is a senior at Bellbrook High School looking to major in rangeland management at the University of Wyoming and work for the BLM or Visual Communications at Ohio University hoping to work for National Geographic someday.  She enjoys ROTC, pole vaulting, and any outdoor adventure she can find.  Darlene is a bus driver in Miamisburg and a lifelong lover of the outdoors who enjoys local hiking, kayaking and horseback riding.  Shelly is a teacher in Miamisburg and spends most of her leisure time on the back of her horse but finds time to hike, bike kayak and camp.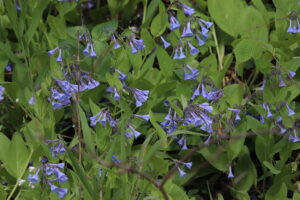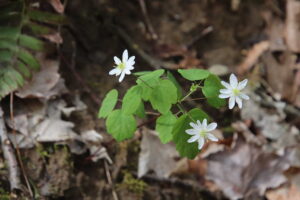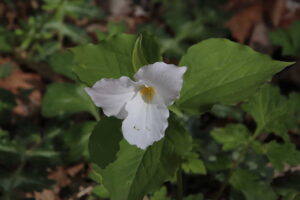 Program: Nature Hikes in Southwest Ohio
Presenter:  Lynn Johnson
Description:  When the pandemic disrupted our lives in the spring of 2020, Lynn was preparing to lead a series of Nature Hikes focused on Spring Woodland Wildflowers. With the hikes put on hold he decided maybe people would still like to have a bit of beauty and nature in their live.  He created a slide show of virtual hikes by taking a series of photographs in some of his favorite woodland trails.  He will present this slide show Thursday evening.  He will also talk about the Spring Ephemeral Wildflowers which can be found locally.  These delicate little flowers are beautiful and have an amazing lifestyle.  There are some really spectacular sights to be seen right in your back yard or just around the corner.  This is the time of year – the ONLY time of the year – that you can see them.
Bio: Lynn is an Ohio Certified Volunteer Naturalist.  He has been a volunteer naturalist for over 30 years and received his OCVN certification in 2019.  He has volunteered at Brukner Nature Center, Caesar Creek State Park Nature Center, Ft Ancient, Springboro Parks, and Beavercreek Wetlands Association.  He had a career as an electrical engineer before diving into his busy volunteering career.
---